Webex Contact Center
Reimagining The Customer Experience.
Webex Contact Center is an advanced cloud-based platform designed for businesses. It aims to enhance customer experiences by facilitating intelligent, proactive, personalized interactions.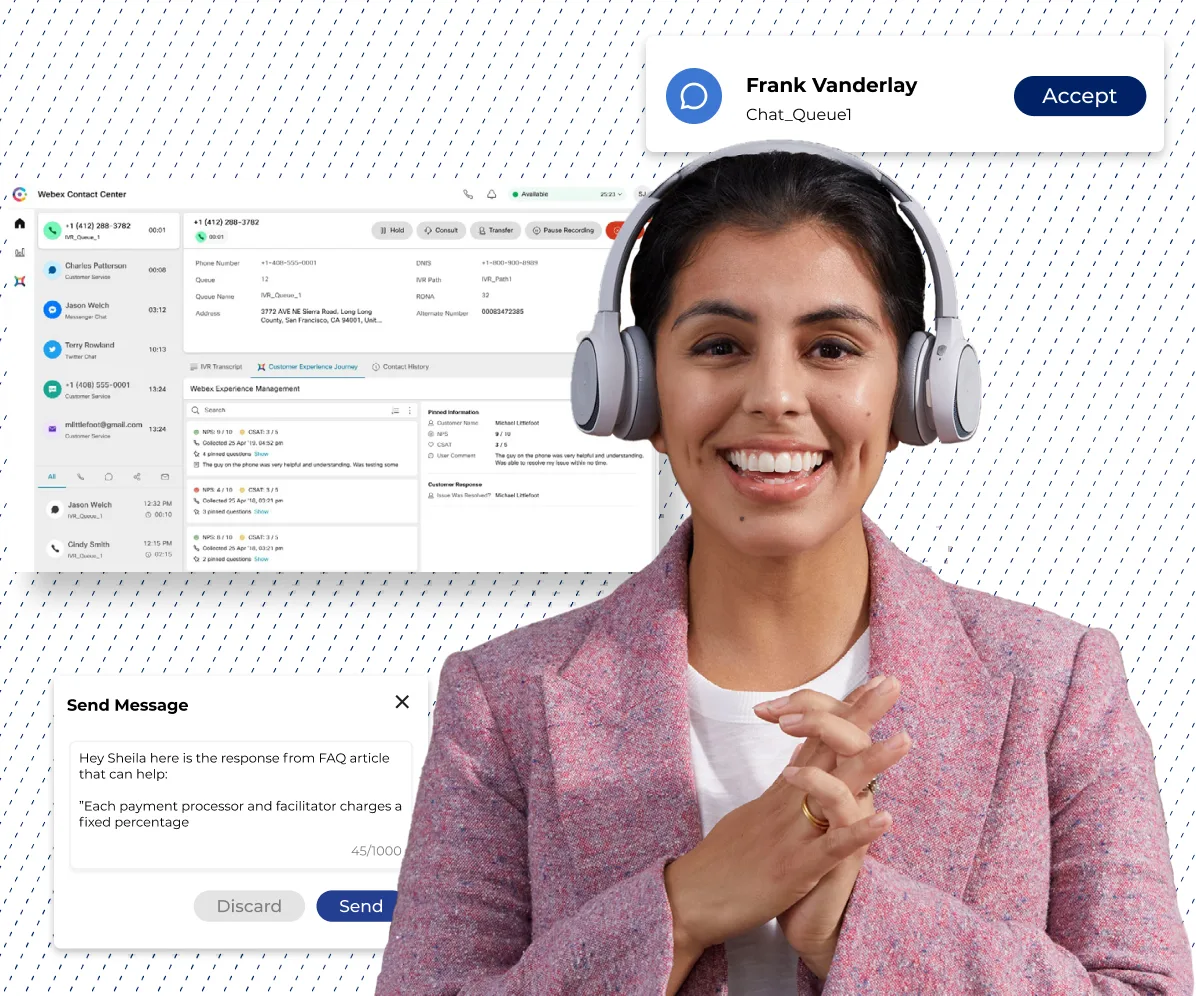 Omnichannel
Let customers connect on their own terms.
Digital-first support means customers can reach out through whichever platform suits their needs – chat, text, email, social, or call.
Single platform across digital channels​
Insights and collaboration tools​
Secure and customizable solution
Easy management and customer journey insights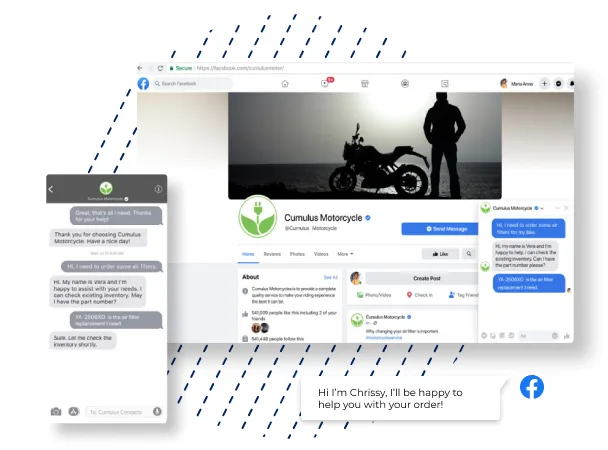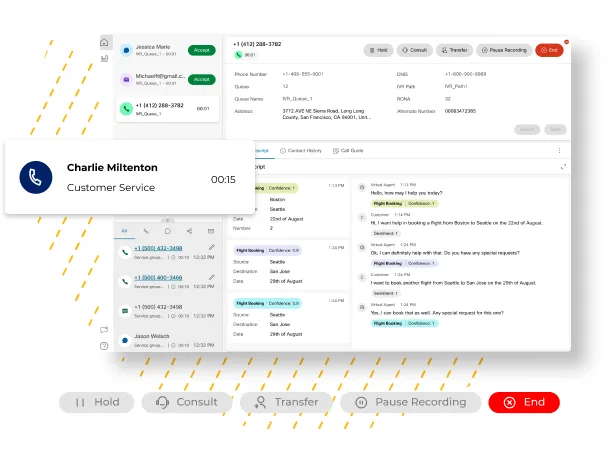 Agents
Empowered agents.
Cisco Webex Contact Center offers AI-powered assistance and a user-optimized agent desktop, enabling agents to deliver exceptional customer experiences with context-driven insights
Optimized agent interface
Accessible customer history
Feedback-based interaction tailoring.
24/7 Self-service
Effortless virtual and human support.
An unparalleled customer service experience with an AI-powered 24/7 support system. Transition effortlessly between virtual and human agents for consistent, context-aware support.
Service is available around the clock.
Switching between agents is effortless.
Customer history is intelligently utilized.
Channels of communication are flexible.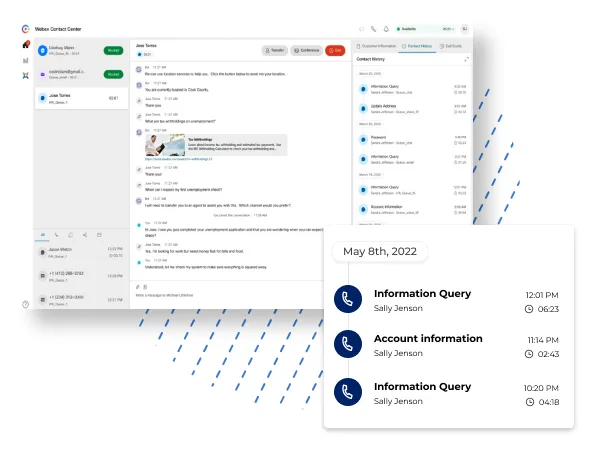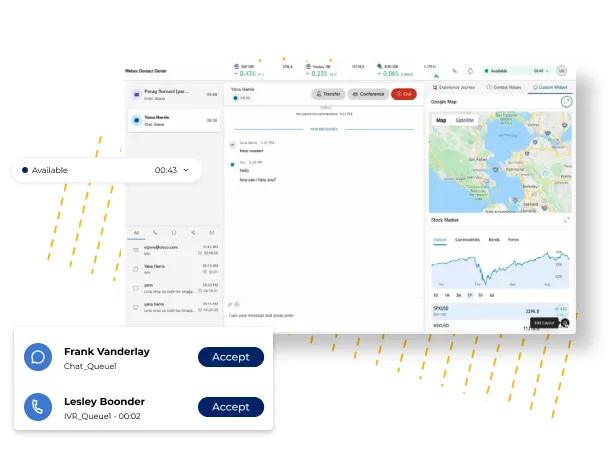 Remote Agents
Empower agents to work anywhere – fast.
Ensure your agents can work efficiently from any location with Webex Contact Center. Easily handle increasing call volume and empower your staff with seamless experiences, no matter where they are.
Remote Work: Operate anywhere quickly
Volume Offload: Handle expanding calls
Fast Deployment: Quick setup available
Seamless Experiences: Consistent service quality
Effective Supervisors
Comprehensive view for effective supervision.
Optimize supervision with our customizable dashboard, providing a simple sign-in experience and a comprehensive view of vital data. Gain important highlights, performance details, key insights, and agent information at a glance.
Customizable View: Dashboard your way
Holistic Display: Full data overview
Insightful Details: Performance and insights
Agent Information: Quick agent data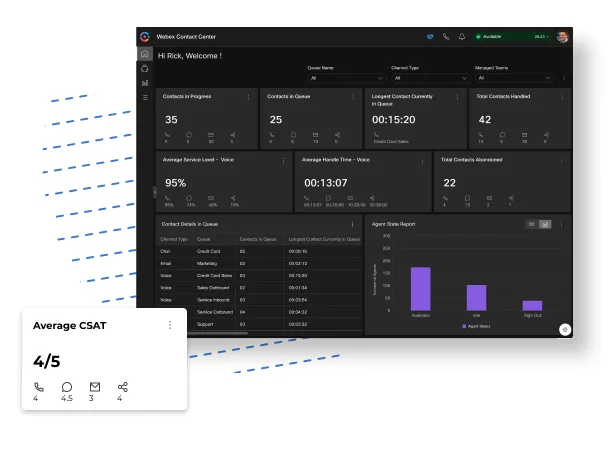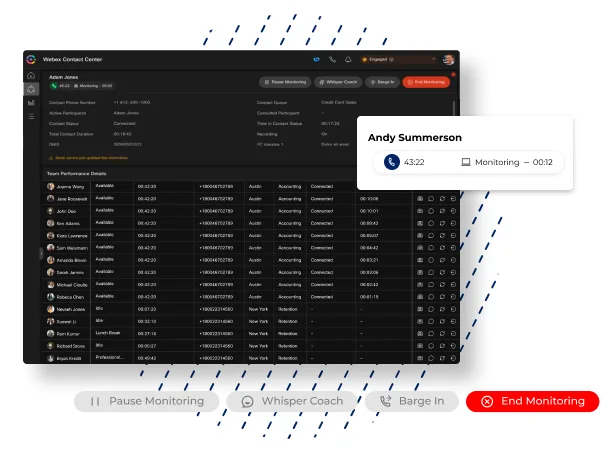 Agent Performance
Monitor and measure the work of agents.
Enhance agent productivity and customer issue resolution with real-time monitoring and support features.
Agent Monitoring: Real-time agent tracking
Performance Insights: Detailed agent data
Silent Call Joining: Supervisors can silently join calls
Rapid Resolution: Enables swift problem-solving
Reports and Dashboard
Real-time, historical, and analytical insights.
Optimize your business with our operational dashboards and reports providing real-time, historical, and trend analysis—cross-analyze customer interactions, agent activity, and business metrics to uncover new ways of enhancing operational efficiency.
Real-Time Dashboards: Instant operational insights
Historical Reports: Past performance analysis
Trend Analysis: Forecast future metrics
Cross-Analysis: Customer and business metrics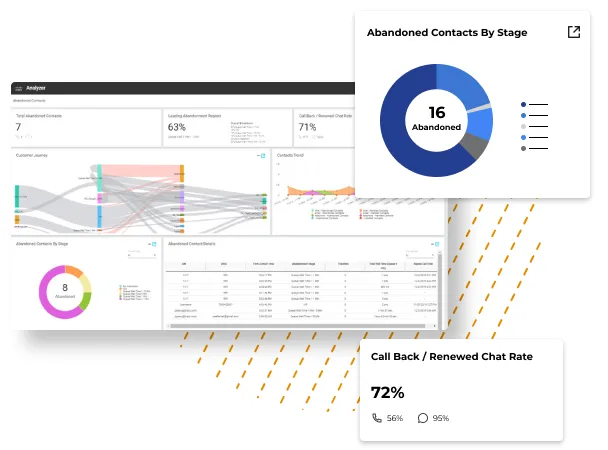 Ready to give it a try?
Get in touch with us and discover powerful, streamlined communications for business.